Samana, Dominican Republic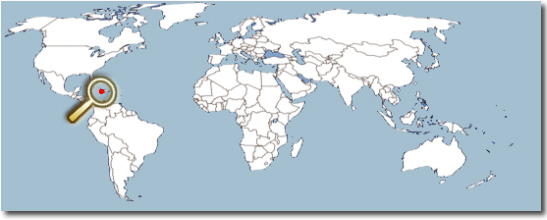 Located in the north-east of the Hispaniola island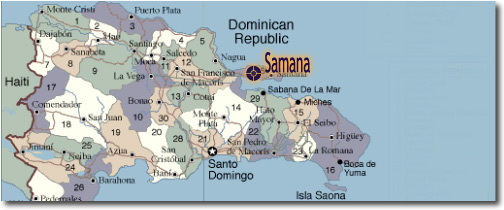 Samana, in the Dominican Republic, is located in the sparsely populated north-east of the island. It is a place where the vegetation is very dense with magnificent mountains. This is a new tourist area in the Dominican Republic.
We were there in April 2010. We snorkeled in the area of Santa Barbara de Samana (near the hotel Gran Bahia Principe Cayacoa), Cayo Levantado and El Portillo Beach. This is not a paradise for snorkeling, but we still spent several hours exploring the sea floor and discovered some new species to our collection.
Some interesting features in the following areas ...
. Sector hotel GBP Cayacoa: an impressive amount of « sea plumes », starfishes and some blue sponges.
. Sector GBP El Portillo hotel: this place could be a paradise for snorkelers accessible from the beach, but the countless bouquets of corals are almost all dead. They are covered with sand. The tide exposes the corals especially during the full moon, hence the formation of algae on top of coral.
In summary, this is surely not the number one attraction in the region. The area near the city of Santa Bárbara de Samaná (GBP Cayacoa) is preferable than El Portillo area. There are two small islands near Cayo Levantado, but we did not have time to explore all places.
Summary of species photographed ...
| | |
| --- | --- |
| Fishes | 28 |
| Corals | 13 |
| Others | 24 |
Our underwater photos ...

http://neptune.destilino.com/gallery/DominicanRepublic/Samana/
Our videos in Adobe Flash format ...
Visit our website dedicated to this destination ...

http://samana.destilino.com/
Visited snorkeling sites
Cuba
Ecuador
Honduras
Indonesia
Jamaica
Mexico
Dom. Rep.
Turks & Caicos
Miscellaneous links
Our favorite places
Visit our websites where snorkeling is a great asset to the destination.