Ned Deloach and Paul Humann
Hundreds of fishes, corals and other species living in the waters of the globe!
As we love to snorkel, it became essential to identify the species that we encountered during our many expeditions, two lovers of the sea have released their years of experience in several books.
These books are available at affordable prices on the fishid.com website
There are two types of books. The waterproof booklets and the original books. The first is a summary of species in a pocket format that can be immersed (ideal for the beach) and the second a much more detailed book. A great tool for identifying species of our photos.
A « Must-To-Have » for snorkelers and divers.
Click the thumbnails below to access the fishid.com website with description and price of this item.
Waterproof pocket books
Detailed books
Interactive DVD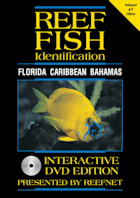 « This new 2 DVD software/ video set remains the most comprehensive guide to fishes of the Caribbean and adjacent waters... the ideal, ultra-portable companion to your trusty Reef Fish ID book! 830 species are presented in 1500 video clips and 4,500 photographs. Supplementary tools include an interactive fish quiz, regional maps, an illustrated glossary, sighting log and a full featured presentation designer. Disc Two contains 2 hours of video to be played on any computer or stand-alone DVD player » (source: fishid.com)
Visited snorkeling sites
Cuba
Ecuador
Honduras
Indonesia
Jamaica
Mexico
Dom. Rep.
Turks & Caicos
Miscellaneous links
Our favorite places
Visit our websites where snorkeling is a great asset to the destination.