Anti-Fog Lens/Mask Cleaner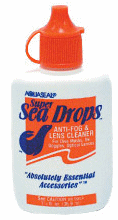 Aquaseal Sea Drops
An excellent product to prevent formation of mist in the diving or snorkeling mask.
The application is very simple, pour one or two drops in each glass of your mask with one finger and then rub the solution on the glass surface. Before using the mask, rinse if with sea water (twice) with a rapid movement to remove excess liquid. It is important to rinse well (but not too much) to avoid the burning eyes.
Voila! and it works fine for hours.
Visit the unrealfind.com website learn more about this very affordable liquid ($6.00), which will save you frustration. It is always possible to use the old method of spitting in his mask, but hey, we like the liquid Sea Drops: o)
Cameras with housing
Olympus C-5050Z
Sanyo x-Acti C4
Canon P. A610
Cameras without housing