---
Pentax Optio W60 (2008 to June 2010)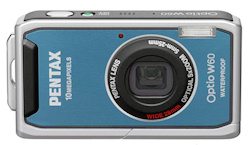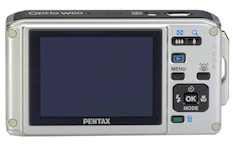 ---
Technical specifications ...
Pixels: 10.0 millions
Sensor: 1/2.3" (36 MP/cm2) Optical zoom: 5x
Image: 3648x2736 (maximum) and 640 x 480 (minimum)
Video: 640 x 480 pixels, 30 images/second
LCD screen: 2.5 inches
Memory card: SD
Battery: Li-Ion (D-LI78)
Weight (with battery): 165 g
Pentax Optio W60

Canon Poweshot A610

640x480 pixels
24 bit
LEAD-MJPEG
1.04 MB/second

640x480 pixels
24 bit
LEAD-MJPEG
2.16 MB/second
The video compression ratio of the Pentax is much higher than the A610. It does not help in editing files.
Pros and Cons ...
I snorkeled few times with this camera and the result of the photos and videos is very acceptable. The use of functions under the water is OK. It is better to switch to macro mode when the subject is a bit close (less than 1 meter). The battery life is acceptable. Framing is easy.
During our trip to Jamaica (June 2010), my camera broke in terms of water shots. The problem is the intense fogging in the display when the camera is underwater. This problem is not new and arose from time to time. There were so many fogs on our last snorkeling that the camera was simply unusable. As I used this camera almost exclusively for diving, I had to change it.
In June 2010, I tried again this camera for comparative testing with the Lumix DMC-TS2 and it made no fog. Why????
Cameras with housing
Olympus C-5050Z
Sanyo x-Acti C4
Canon P. A610
Cameras without housing