---
Canon Powershot A610 and its WP-DC90 underwater housing (2006 to 2008)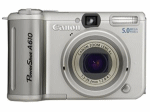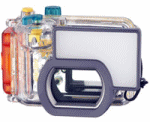 ---
Technical specifications ...
Pixels: 5.0 millions
Sensor: 1/1.8" Optical zoom: 4x
Image: 2592 x 1944 (maximum) and 640 x 480 (minimum)
Video: 640 x 480 pixels, 30 images/second
LCD screen: 2.0 inches
Memory card: SD
Batteries: 4xAA
Weight (without batteries): 285 g
Pros and Cons ...
There is a story behind the choice of this camera. As I had to change camera for a Powershot S2 IS, I was looking for a housing for this camera. There were those offered by the company Ikelite. A horror! I was looking for a small format, here I am with a huge box at the same price of the camera itself! What comes to mind is to buy a camera and his housing, but only for diving.
My choice was the Canon products, the "A" series. Why? SD memory cards and AA batteries. I like the idea of not being limited to Li-Ion battery. With the new generation of Ni-MH, the charge is long enough to take a lot of photos and videos!
This camera was the best compromise among my three cameras and housings. The speed of operation, the shutter lag, the clarity of the display and the design of the case make it an excellent choice. Problems: Zooming is slow and does not work in video mode, and it is difficult to take photos in macro mode. The AVI format is great because it does not compress the files too much and thus facilitates post-editing.
Cameras with housing
Olympus C-5050Z
Sanyo x-Acti C4
Canon P. A610
Cameras without housing