---
Olympus C-5050Z and its PT-015 underwater housing (2003 @ 2005)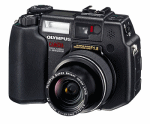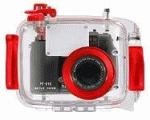 ---
Technical specifications ...
Pixels: 5.2 million pixels
Sensor: 1/1.8"
Image: 2560 x 1920 (maximum) and 640 x 480 (minimum)
Video: 320 x 240 pixels, 15 images/second
LCD screen: 1.8 inches, 114,000 pixels
Memory card: SmartMedia, CompactFlash and xD (versatile!)
Battery: AA
Weight (without batteries): 380 g
Pros and Cons ...
Great design. All functions are accessible to the housing. There are two silicone seals to ensure maximum tightness. The problem with the camera was the very slow operation (on / off and zoom), almost impractical underwater. Difficult to « feel » the halfway trigger. The video format of 15 fps was clearly inadequate. However, I have still few very good shots with this camera. Our last experience with was in Nov. 2005. I paid almost twice the price compared to actual cameras!
Cameras with housing
Olympus C-5050Z
Sanyo x-Acti C4
Canon P. A610
Cameras without housing